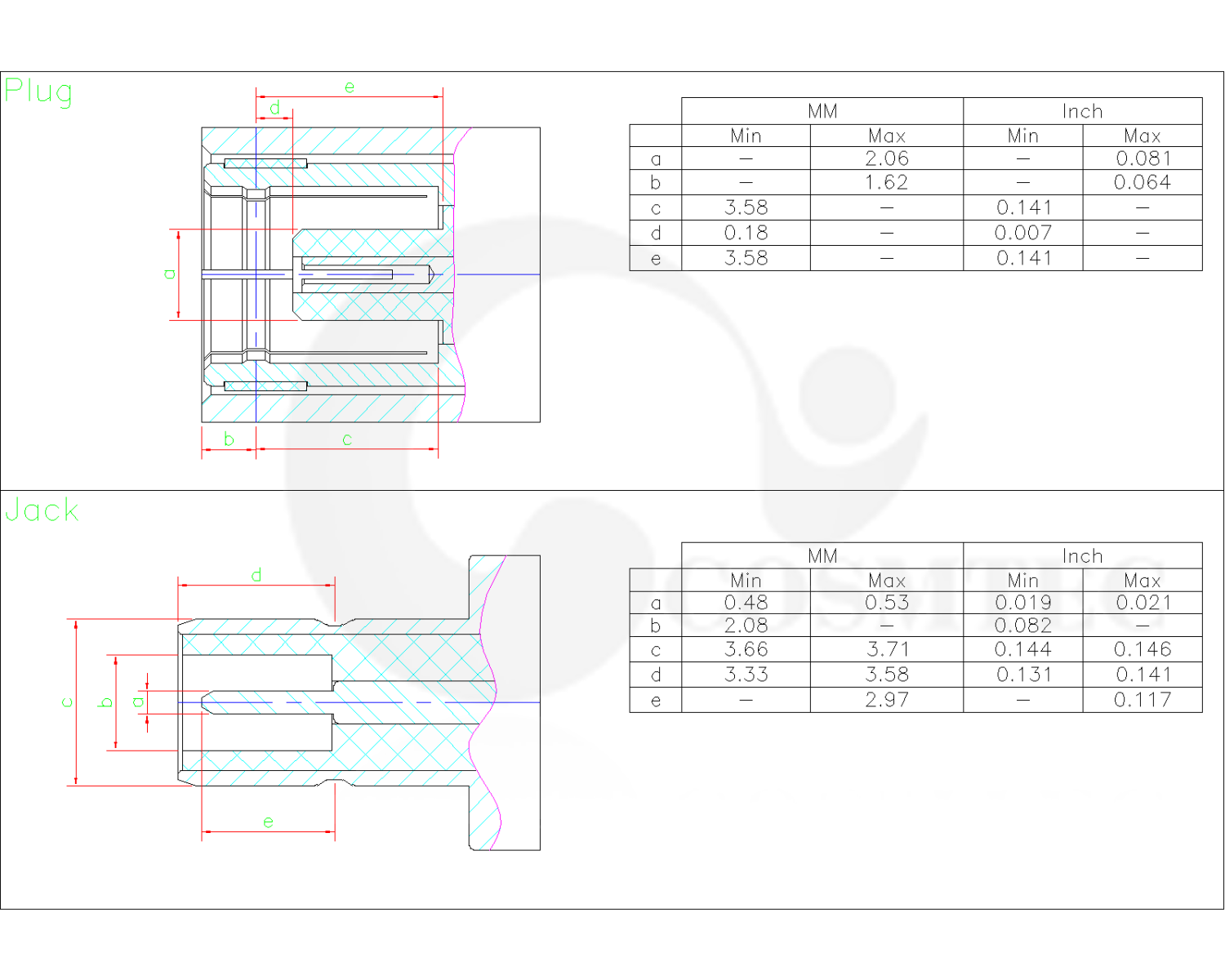 SMB (Subminiature version B) Connectors have a snap-on coupling and are available for 50 OHM and 75 OHM offering electrical performance from DC to 4GHz (50 OHM) and from DC to 2GHz (75 OHM). SMB Styles are available for flexible, conformable and semi-rigid cables. SMB series are available for mounting to printed circuit boards employing through-hole soldered, through-hole press-fit and surface mount technique (SMD). Solder, crimp and clamp modes are used to assemble SMB connectors to cables. Applications include Base Stations, Automotive, GPS, Telecom Cable Assemblies, Components, Instrumentation PC/LAN, Process Controls, Radio Boards Surge Protection, Test and Measurement Video Systems.
SMB & SMC are all the same type but with different coupling system.
SMB has a snap-on coupling that is rapid but secure connections.
SMC has a threaded coupling for vibration environments.
Electrical
Impedance
50 ohm / 75 ohm
Frequency range
DC ~ 4 GHz (50 ohm) / DC~ 2 GHz (75 ohm)
VSWR
Dielectric withstanding voltage
Working voltage
335 V rms
Center contact resistance
6 m ohm
Outer contact resistance
1 m ohm
Insulation resistance
100 M ohm
Mechanical
Coupling
Snap-on
Contact Retention
Mating torque
Mating Durability
500 mating cycles
Environmental
Temperature Range
−65ºC ~ +155 ºC
Vibration
Corrosion resistance
Materials
Body, coupling nut
Brass
Insulator
Teflon
Center contact
Brass (male) / Beryllium or Phosphor bronze (female)
Crimping Ferrule
Annealed copper ally
Body plating
Gold
Center contact plating
Gold
Note: These characteristics are typical but may not apply to all connectors.
Applications:
Cable Assembly

GPS

Radio Boards

Telecom

PC/LAN

Test and Measurement

Components

Vedio System

Base station

Instrumentation

Process Controls

Surge Protection