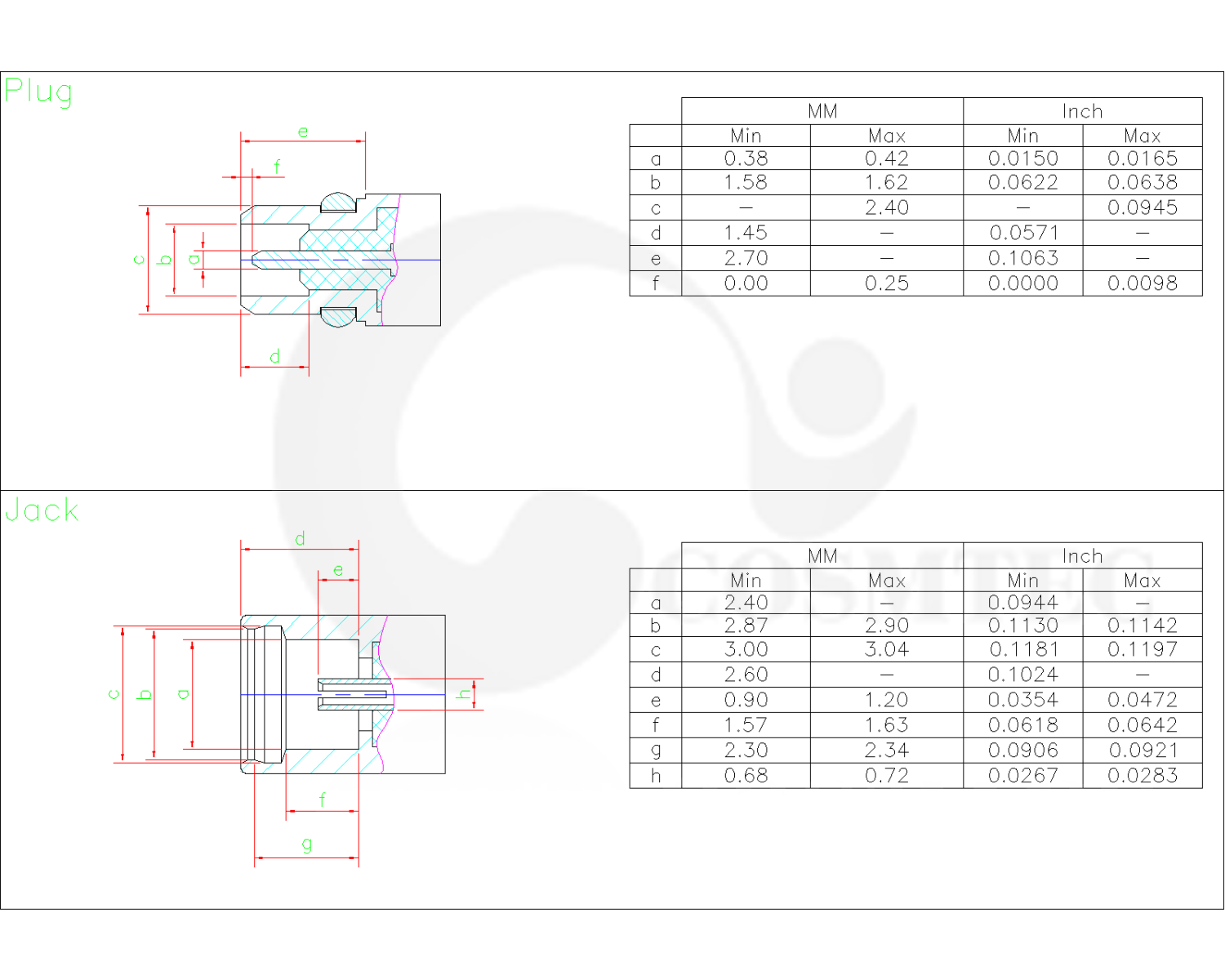 MMCX(micro-miniature coaxial) series are similar to MCX but smaller was introduced in the 1990's. MMCX series also use snap-on coupling and 50 OHM MMCX connectors provide broadband capability from DC to 6 GHz. Versions of MMCX Connectors are available for flexible, conformable, and semi-rigid cable types. MMCX series are available for mounting to printed circuit boards utilizing through-hole soldering, press-fit and surface mount type (SMD). Solder and crimp type are used to assemble to MMCX connectors to cables. Connectors Applications include Antennas, Base Stations, GPS, Telecom Broadband Communications, Cable Assemblies Components, Instrumentation, Satcom PCMCIA Cards, Radio Boards.
Electrical
Impedance
50 ohm
Frequency range
Dc ~ 6 GHz
VSWR
1.15 max ( straight )
1.4 max ( right angle )
Voltage Rating
170 Vrms
Center contact resistance
10 m ohm
Outer contact resistance
5 m ohm
Insulation resistance
1,000 M ohm
Mechanical
Coupling
Snap-on
Contact Retention
Mating torque
Mating Durability
500 matings
Environmental
Temperature Range
-55° C to +155° C
Vibration
Corrosion resistance
Materials
Body, coupling nut
Brass
Insulator
Teflon
Center contact
Brass (male) / Beryllium copper (female)
Crimping ferrul
Copper / Brass
Body plating
Gold
Center contact plating
Gold
Note: These characteristics are typical and may not apply to all connectors.
Applications:
Antenna
Base station
Gps
Telecom
Radio boards
Satcom
W-LAN
Cable assembly
PCMCIA cards
Instrumentation